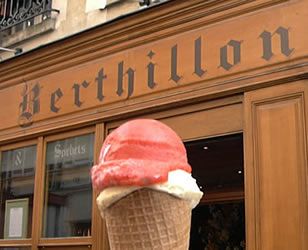 Summer in Paris is coming to an end, and your ice-cream craves are still haunting you? Just in case you haven't noticed the gigantic notice in your guidebook, or haven't followed the salivating crowds over the Bridge between L'Ile de la Cité and L'Ile Saint Louis…
Then you ought to know about Berthillon For over 50 years, the now 80 year-old Raymond Berthillon has been ensuring that Parisians and tourists keep their sweet tooth sinning! Originally a baker, Berthillon revamped an old ice-cream turbine, and a few days later, people were lining up outside the bakery. Try the vanilla – the one flavor that shows the savoir-faire of the creamer according to Berthillon – or the legendary wild strawberry ice-cream that the family have been crafting for decades, even though they don't make a cent out of it!
If you're looking for a less crowd-ridden ice-cream venue, we know for a fact one creamer in the city may rival with Berthillon in term of quality… Rue Mouffetard, vegetable stalls and farmer's cheese shops follow a winding path uphill towards number 45, where Alberto whips up gelati wonders with the day's fresh fruit.
Practical information:
Do not get misled to a reseller (though authentic)! The original Berthillon ice-cream and tea parlor stands at 29-31 rue Saint Louis en l'Ile, 75004
As to Gelati d'Alberto, you'll find them at one of Alberto's two shops: 45, rue Mouffetard
75 005; 12, rue des Lombards
75 004